Introducing the Emanating Fist Electronics ~ LR-01. High quality fuzz tones presented in a compact and contemporary format. Constructed in a rugged 120mm x 100mm x 30mm die-cast aluminum enclosure the LR-01 is a miniaturized offering of our three transistorized high gain germanium fuzz, the Lucifer Rising. The LR-01 features quality hardware and components through-out offering solid performance in both sonic delivery and road worthiness.
Potentiometers feature a conductive polymer track rather than the traditional carbon track for increased durability and longevity. Our footswitches are heavy duty 3PDT types with hard-wire true bypass operation. Audio jacks feature Ni-Ag alloy self-cleaning contacts for optimal performance and reliability. The LED's fitted are low drain high brightness types with a wide and easy to see viewing angle. The control surface is functional with bold position markers and flush surface mounting control knobs. Circuit board population features capacitors with a polyester film construction, 1W carbon film resistors and gain selected vintage germanium transistors from brands such as Mullard, NKT and STC. Offering vintage styled tones but with higher modern day specification thus delivering a superb signal to noise ratio.
The EFE Particle Series pedals are primarily designed for use on a pedal board so power is supplied via an external 9 volt dc supply only (not included) There is no facility for a battery inside the DP-01 or any of the Particle Series EFE pedals.
The LR-01 is currently available in two differing circuit configurations. The details of which follow below.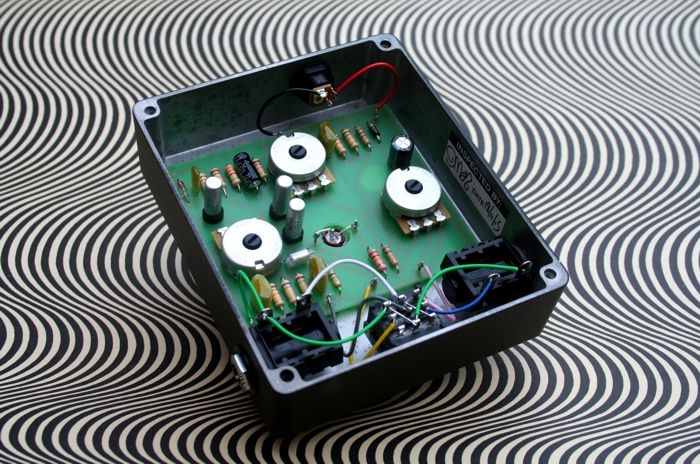 Olympia
This circuit configuration is 99.99% the original stock 1960's Rotosound (AKA Tone Bender MKIII) circuit, the only modification from the vintage reference unit being a slight and gentle increase in the given output level. The LR-01 Olympia offers a traditional bass to treble EQ response and delivers a somewhat raspier more ancient sounding fuzz, dealing out flavorsome tones ranging killer bee buzz to the wasp in jam jar style sizzle. Not as fast in dynamic response and chunky rather than crunchy at higher gain settings. The Olympia features a trio of vintage specially selected Mullard or Newmarket germanium transistors and features a high bright red LED.
#11/The standard
The LR-01 #11 is the standard EFE Lucifer Rising circuit type offering the classic thick and honky midrange heavy distortion tones with more than generous gain and output levels. A very hot and driven sounding fuzz, hence the moniker of "super-alpha overdrive". The #11 features a trio of vintage specially selected Mullard or Newmarket germanium transistors and features a high bright green LED.