Moderator: The Captain
Posts: 2103
Joined: Tue Aug 26, 2008 9:21 pm
Location: Stompland
classy looking fly there.
Do Drugs, Worship Satan.
Posts: 893
Joined: Fri Mar 11, 2011 8:04 pm
Location: Austin, TX
Yep -- prob my favorite color of these
Timing has a lot to do with the outcome of a rain dance.
Posts: 230
Joined: Thu Aug 12, 2010 7:39 pm
Location: Sydney, Australia
I got one in the same batch, my first DAM pedal, still probably my favourite and i could never let go of it haha
Posts: 365
Joined: Fri Oct 07, 2011 10:54 pm
i really like to play one of these

Posts: 2363
Joined: Mon Mar 08, 2010 7:11 am
There are a bunch for sale right now. Go grab one up! Or just wait for a Black Acid, loverly pedal :)
"Yes I remember a brave guy named Roger dancing around musicians and cleaning their shoes. Occasionally we gave him our broken pedals for repair to get peace for some hours."
Posts: 94
Joined: Thu Sep 05, 2013 10:14 pm
I just got the companion to your BRG fly
Many many thanks to Joe!
I absolutely love this!!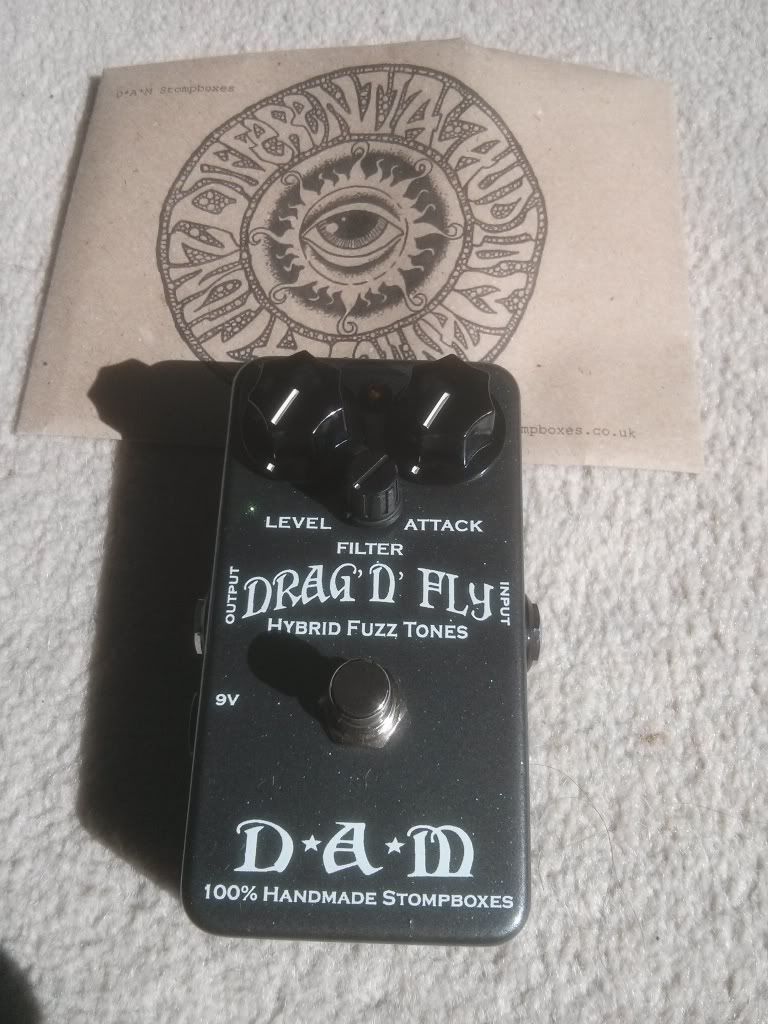 Its got oc139 in are these common in the fly's?
Posts: 264
Joined: Mon Jun 24, 2013 7:38 pm
Posts: 1552
Joined: Wed Nov 02, 2011 8:49 pm
Woo hoo! There she is! What a beauty

Aye , this is definitely a spectacular little 'Fly!
I agree this one is smoother sounding - one of if not the best Drag N Fly I tried. Killer pedal!
Congratulations!

Logic should not interfere with determination
Posts: 169
Joined: Mon Sep 01, 2014 7:48 am
I have purchased one of these recently from the user API. Absolutely brilliant! Great amazing OD tones and cleanup! Real dynamic with my hollow body p-90s. Don't think ill ever see this one go!
Users browsing this forum: No registered users and 1 guest