Phew! Working on a Sunday. I wager that little baby Jesus is crying into is sandwich.
Okay here we go. I am a little later in the day than I planned but better late than never, right?
So we have 6 x Black 'n' Gold Fuzz Sounds and 1 Electric Blue to go, the rest have homes and I'll explain the lonely blue in a jiffy.
Black 'n' Golds first. All these pedals feature Mullard OC84 transistors but three have Mullard OC45's in the second position within the circuit and three have unmarked metal can types in the second position. These unmarked cans came in the box with the OC84's. The few that I can make the number out on state them as Impex S3-1T's. These un-marked metal cans all fail into the same test group so I am assuming they are all Impex devices. These also have a blue dot on the top where as the Mullards don't. Either way they you ain't loosing out. They are either un-branded Mullard OC84's or Impex S3-1T's. Just wanted to make that clear.
They are all tuned the same but the 45's sound a teeny tiny weeny little bit more MKIII-ish, a little more choppy.
So I'm referring to these 3 like so, as
IMPEX
in the listing heading
...and the other three with the blue jackets as
OC45
in the listing heading.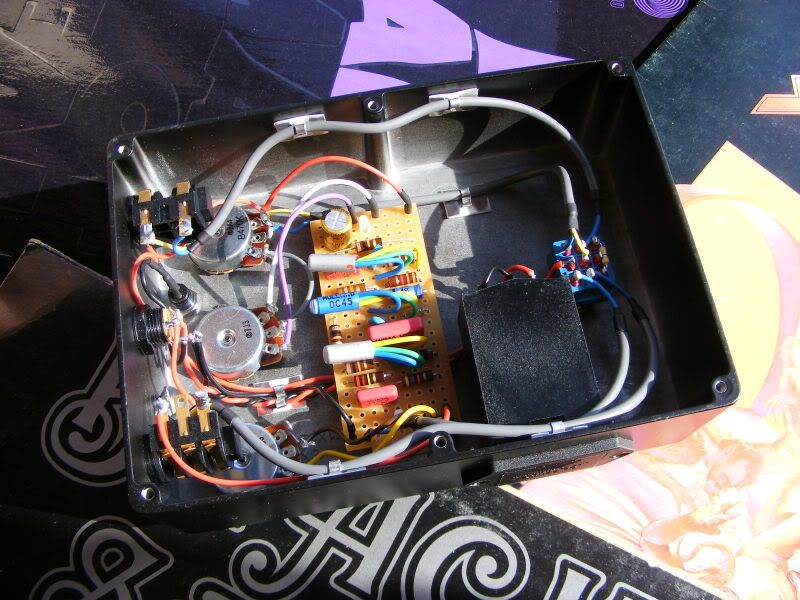 The lonely blue is one of two in this little lot I made. No.000, the first, is mine...of course. That's the first "production" prototype so I'm keeping that at castle D*A*M. The other, No.004 is the one heading out into the world. This has the weird Impex thing too. Mine has the OC45. Like so...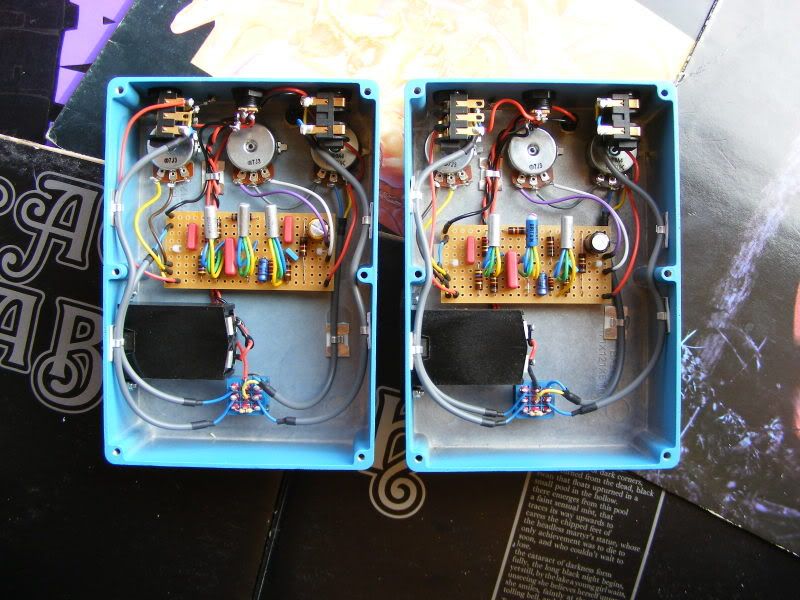 No.004 also has a little damage on the back.
Someone
got a little too laughing Larry with the drill didn't they!

It obviously don't affect the performance none just have to mention such things. It still looks prutty though and sounds rather tasty.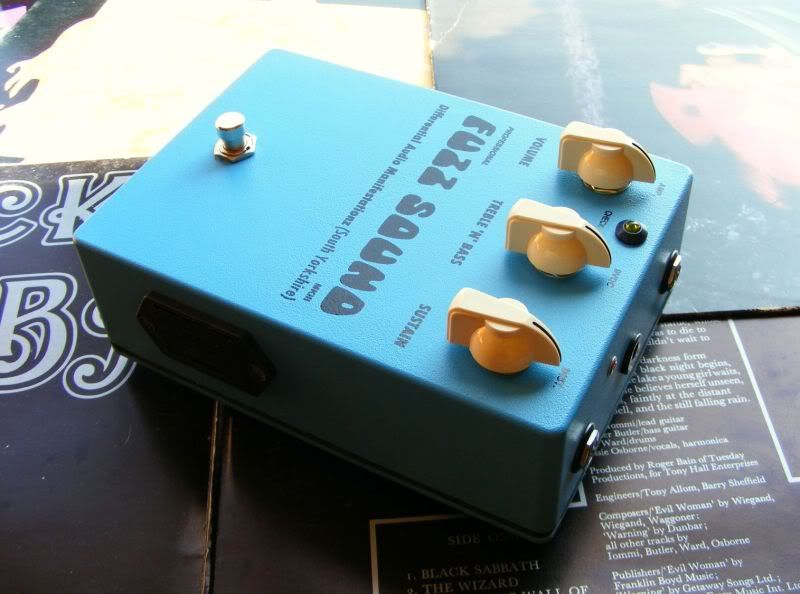 Now, due to the slight damage I'm running this as a 1 day auction. Nuff said.
So we are stacked up like so:
Monday 20th April
Times are UK times, whatever we're on now...BST is it? The BIN prices are as stated the other day £350.00
12.30pm - Black 'n' Gold IMPEX Fuzz Sound MKIII x 2, BIN
Electric Blue defect Fuzz Sound MKIII, 1-day auction starting at £66.66

3.30pm - Black 'n' Gold IMPEX Fuzz Sound MKIII x 1, BIN
Black 'n' Gold OC45 Fuzz Sound MKIII x 1, BIN

6.30PM - Black 'n' Gold OC45 Fuzz Sound MKIII x 2, BIN
Store linky:
http://stores.ebay.co.uk/Differential-A ... festationz
To satisfy any curiosity...
The single Dark grey Fuzz Sound is teh Popes. The other 2 Dove grey and the first Black 'n' Gold have gone to folks who made this process possible. Research materials if you will.
~Captain of tEh ship

Curry?