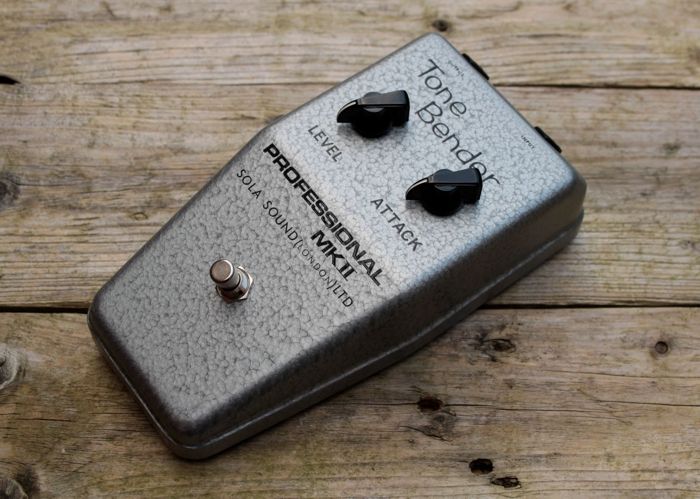 The Sola Sound Tone Bender Professional MKII. This pedal is not a replica of a Sola Sound Tone Bender it is a Sola Sound Tone Bender. The real deal, the genuine article, thee dog bollocks. Originally designed by Gary Stewart Hurst and produced by Sola Sound back in 1966 the Professional MKII is now once available and is proudly produced by D*A*M. These pedals will stand shoulder to shoulder in every aspect to those highly prized vintage units. From the 'unbreakable' British made enclosure to the internal wiring and parts selection the foremost decision made on all of those aspects is quality.
For me personally its the culmination of approx 10 years research on the original Sola Sound Pro MKII's. When I made the first few D*A*M replicas back in 2004 my end goal was to eventually make a real version in a sand cast enclosure like the originals. It's pretty trippy to actually be doing just that and to be making them for Sola Sound. Home of the Tone Bender and the origins of British fuzz tone for over half a century.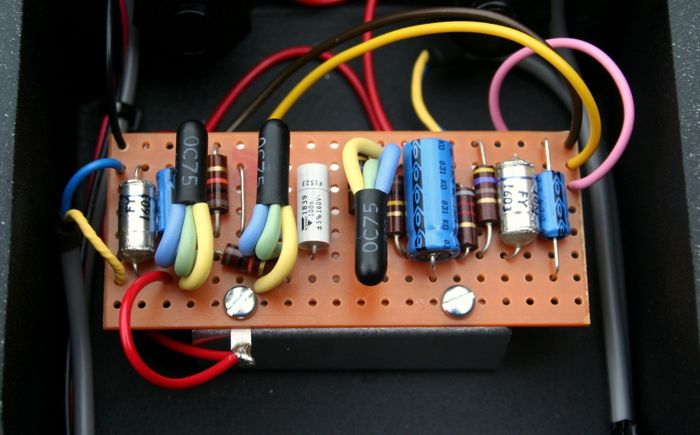 What's inside?
The build style is as you'd find in an original Sola Sound MKII. The wiring is a tad looser than I would normally do but there is lot of space in these cases and the thing I am aiming for here is authenticity. The Mullard OC84's are really an ideal candidate for the MKII circuit. They give the best of both worlds. They give the lowest gain possible, aside form the old Impex devices, with the Attack set fully off and easily as much gain as a good set of OC75's but with a hair less noise when maxed out. Both Anthony and Stave Macari were keen to have a pedal reflective of where they are at now and whist the MKII is quite obviously a fuzz box of things gone by having the Mullard OC84's in the mix adds a new twist on the usual suspects that you'd expect to see in such a pedal.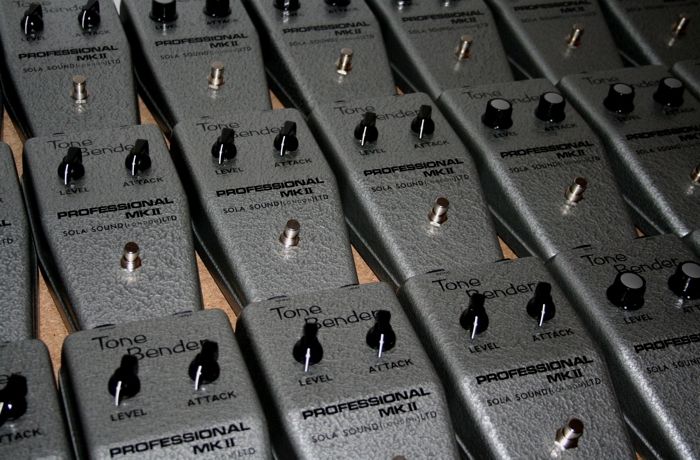 Where do I get one?
If you are interested in this project please contact the fine upstanding gents at Macari's in London.
Please do not contact D*A*M about purchasing this product. We are purely the builders and cannot supply this product to you
Legal Disclaimer: 'Tone Bender' is a registered trade mark and owned by the Macari's (AKA Sola Sound Ltd) of London. It is a legal infringement of this right to use the term Tone Bender in any unauthorised manner.
Beware of bootlegs and cheap imitations. Only true Tone Bender's are made by and for Sola Sound Ltd, London.
Sola Sound statement dated 2nd January 1967 detailing Jimmy Page's acquisition of his Tone Bender MKII in Decemeber 1966.
The original 1966 advert for the Sola Sound Tone Bender Professional MKII.