The Ram Head is a sonic replica of the 2nd edition of the Electro Harmonix Big Muff Pi, more commonly referred to as the "Ram's Head" or "Lamb's Head" model. The Ram had more gain and tonal scope than the 1st edition "Triangle" Big Muff and was the first Muff to be housed in the larger enclosure.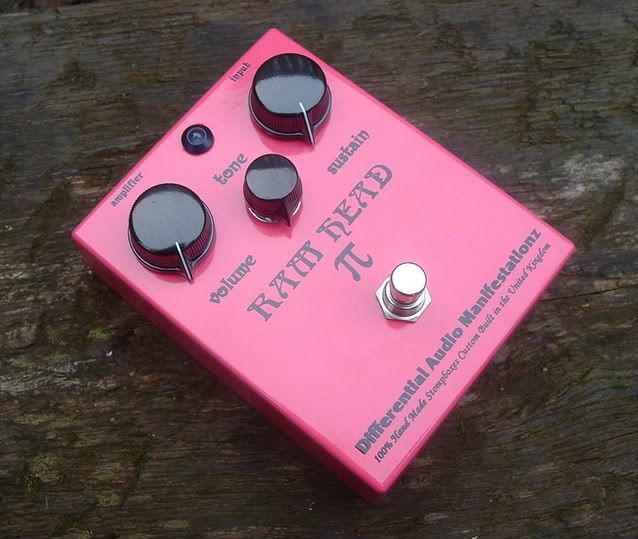 The original EH Ram's Head Big Muff is a really great fuzz box but is not with out its draw backs. It did not feature true bypass switching, a DC socket, status LED and had no internally shielded cable, which can lead to stray radio noise and interference. The D*A*M Ram Head captures all the sweet vintage tone of that original 70's pedal but has all those modern features that are a must for any of guitar/bass player.
The Ram's Head features include.
1. UK made OMEG Conductive plastic ECO potentiometers which have over twice the life span of carbon pots.
2. True bypass switching so no sucking will occur when the unit is in bypass mode.
3. NOS BC239C high gain silicon transistors as used in the original EH Ram's Head Big Muffs.
4. The correct mixture of ceramic and polyester capacitors that the original Ram's used to ensure the correct tonal output.
5. 1% metal film resistors which help to minimize background noise.
6. High quality USA made Davies control knobs.
7. Neutrik 1/4 inch long life audio jack sockets.
8. Anodized brass LED bezel.
9. 2% Silver content solder used through out.
10. High quality die cast aluminium hand finished enclosure with hand applied screen printed artwork.